USD/JPY is still mired, but its downtrend channel has not seen a downside test for quite some time

The channel base may well be losing relevance

EUR/JPY's latest lower low bears watching
The Japanese Yen remains in the ascendant against the US Dollar with a long, well-respected downtrend channel still very much the dominant feature of its daily chart.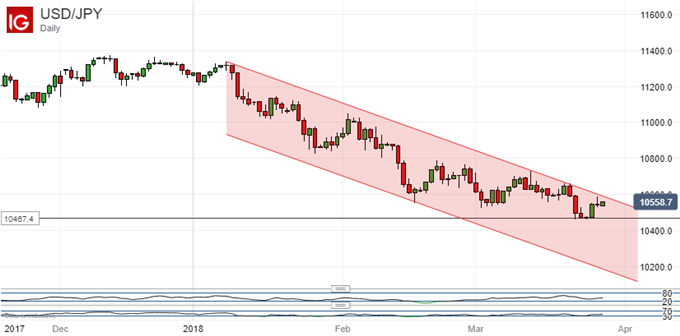 USD/JPY seems to be making another modest upward foray and that's certainly something to watch. But at the moment it doesn't look likely to stage a conclusive upside break. That said the channel's downside is a little tenuous. It has only really been tested once, by an intraday slip to 105.42 on February 16. Indeed, the relevance of that downside trend is probably debatable now.
It may be more likely that the cross is settling into a broad range bounded by the lows of late last week and the highs of March 9. This would conform far more closely to the general price action seen since the end of last month.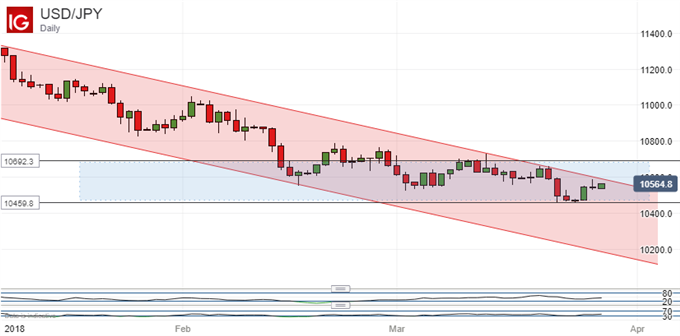 In fact, the uncommitted may not want to get involved at all now, but to see how this latest upside push actually fares. If it respects the trend, then this range may not last. However, if it manages to get back to those early March highs then it seems likely that current lows offer reasonable support and that a consolidative range is indeed in place.
More falls may follow of course, once it plays out.
The Euro has already confirmed a very similar pattern against its Japanese rival. EUR/JPY broke its downtrend some time ago and has settled into a broad range-trade characterized by some very large upward doji candles. However, it is worth pointing out that the euro has just made a notable lower high on its daily chart, which may now put focus on the range base.
This comes in a 128.93, March 22's intraday low.
Pro fx tigers